Welcome to Gumby Gumby
We would like to introduce you to Pittosporum angustifolium (formerly Pittosporum phillyraeoides), known as Gumby Gumby. It has been published that this plant is a great energy source which can enhance your well-being.
We have long believed in the effectiveness of Gumby Gumby just like the first people already believed in the plant and its secrets for over 50,000 Years.
Thousands of people around the world already know about the benefits of Gumby Gumby and our products. If you don't know about Gumby Gumby and the benefits of our products, we advise you to find out for yourself on this website and elsewhere on the internet, by ordering our products and reading more about this wonderful native plant.
We have collected Gumby Gumby from all over Central Queensland under the supervision of an internationally qualified naturopath. We have developed a line of products full of energy, strength and secrets. To find out more, you have to make your own journey.
---
PRODUCT OF THE WEEK
(Australian customers only)
Gumby Gumby Liquid Extract
This is our most potent product, it's stronger than our new line of capsules.

1 x 50 ml Bottle (Buy 2 and save!)
Batch Number: 1948xxx
Product of Australia
Price: AU$ 65.00
Shipping & Handling: See Shopping Cart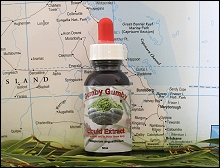 [
Click here for Product Information
]
---
It was brought to our attention that another Australian business is using the business name "Gumby Gumby" for their Facebook page. We are getting inquiries from people who are confusing that page with the page of our business.
We are not affiliated in any way with the other Gumby Gumby Facebook page. We are not liable for any sales or actions by that business or for any medical claims on their Facebook page that might violate Australia's TGA laws.
We registered the business and domain name "Gumby Gumby" in 2006 and our page was verified by Facebook as the authentic page. You can find our page at www.facebook.com/gumbygumbyproducts.
The Gumby Gumby Logo is a registered trademark ® of GumbyGumby.com.