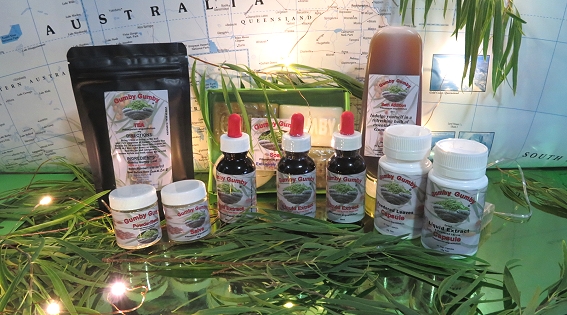 Gumby Gumby Products
INTERNATIONAL ORDERS ONLY!
Use this page if you don't live in Australia.

Order our products and make secure payments with your PayPal account or your Visa or MasterCard.

Orders are processed and shipped within 24 hours of receipt. International shipping may take 7 - 14 days.

No shipping to Germany until further notice.

Please read our Disclaimer about Postage, Delivery, Payment Options & Return Policy.


---
Gumby Gumby Liquid Extract
This is our most potent product, it's stronger than our new line of capsules.

1 x 50 ml Bottle (Buy 2 and save!)
Batch Number: 1948xxx
Product of Australia
Price: AU$ 65.00
Shipping & Handling: See Shopping Cart


---
Gumby Gumby Liquid Extract / Powdered Leaves Capsule
NEW! Stronger than our Powdered Leaves Capsule, but not as potent as our Liquid Extract.

1 x 60 Capsules (Buy 2 and save!)
Batch No: 1939xxx
Product of Australia
Price: AU$ 33.00
Shipping & Handling: See Shopping Cart


---
Gumby Gumby Powdered Leaves Capsule
NEW! Not as strong as our Liquid Extract / Powdered Leaves Capsule.

1 x 60 Capsules (Buy 2 and save!)
Batch No: 1934xxx
Price: AU$ 20.00
Shipping & Handling: See Shopping Cart


---
Gumby Gumby Soap
4 X 70g Net. (Buy 2 and save!)
Sold only in a set of four soap bars.

Batch No: 221200xxxx
Handmade & designed by Gumby Gumby
Price: AU$ 20.00
Shipping & Handling: See Shopping Cart


---
Gumby Gumby Three Months Super Energy Package 1
3 x 50ml Bottle Liquid Extract
1 x 30g Jar Salve
1 x 30g Jar Powder/Seed
1 x 50g Tea Bag

Price: AU$ 297.00
Shipping & Handling: See Shopping Cart


---
Gumby Gumby Three Months Super Energy Package 2
3 x 50ml Bottle Liquid Extract
1 x 30g Jar Salve
1 x 200ml Bottle Bubble Bath
1 x 50g Tea Bag

Price: AU$ 297.00
Shipping & Handling: See Shopping Cart


---
Gumby Gumby Three Months Super Energy Package 3
3 x 50ml Bottle Liquid Extract
1 x 30g Jar Tea Powder/Seed
1 x 200ml Bottle Bubble Bath
1 x 50g Tea Bag

Price: AU$ 297.00
Shipping & Handling: See Shopping Cart


---
Gumby Gumby Tea Powder/Seed
1 x 30g Jar (Buy 2 and save!)

Batch Number: 1964xxx
Product of Australia
Price: AU$ 35.00
Shipping & Handling: See Shopping Cart


---
Gumby Gumby Energy Leaf Tea
1 x 50g Bag (Buy 2 and save!)

Batch Number: 3501xxx
Product of Australia
Price: AU$ 35.00
Shipping & Handling: See Shopping Cart


---
Gumby Gumby Salve
1 x 30ml Jar (Buy 2 and save!)

Batch Number: 4711xxx
Made by Gumby Gumby
Price: AU$ 50.00
Shipping & Handling: See Shopping Cart


---
Gumby Gumby Bubble Bath
1 x 200ml Bottle (Buy 2 and save!)

Batch Number:2208xxx
Made by Gumby Gumby
Price: AU$ 30.00
Shipping & Handling: See Shopping Cart